Click Here for our New Online Shop Powered by Square!!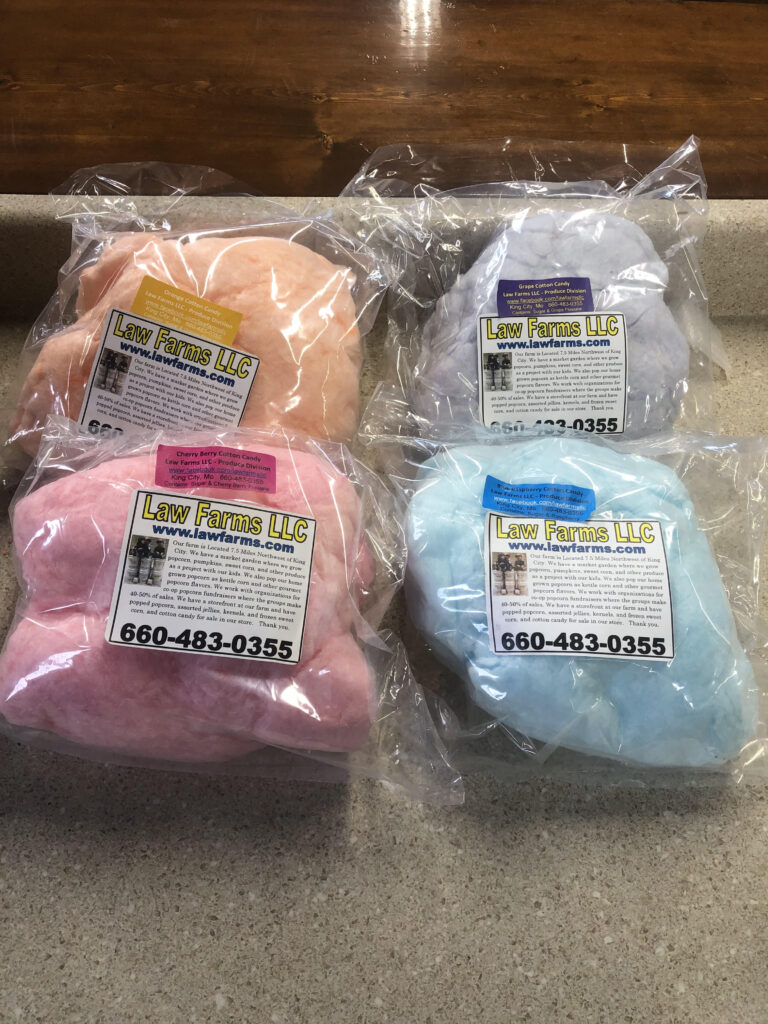 Our cotton candy is gaining popularity and we have been asked by some to do some fundraisers or sell a large amount at a discount to them to resell at a concession stand or as a way for a group to raise money. The bags are 12×12″ and retail for $5 and for large orders the price is $2.50 plus tax if the group is not sales tax exempt.
We have several flavors with the most popular being Cherry Berry and Blue Raspberry. We also do Green Apple, Grape, Watermelon, Orange, Banana and Cinnamon.
The cotton candy is made fresh for your order and heat sealed in a 2mil plastic bag and checked for air leaks. The cotton candy's biggest enemy is hot weather so keeping the cotton candy around room temperature expends is shelf life. We typically see 2 weeks or more shelf life from the cotton candy when kept cool. In the summer time one day out in the heat and it starts to shrink and would need to be discounted to be sold.
The groups typically sell for 2-3 weeks and then turn their order into me one week before delivery. Or a group places an order and sells them at an event or ball game. Payment to us is at delivery or pickup. We require atleast 100 bags for a delivery 30-45 minutes away from the farm. Larger orders we can deliver farther away. 100 bags can easily be transported in a car or SUV.
If you have any questions feel free to call or text Brad at 660-483-0355 or email [email protected] or fill out the contact form.